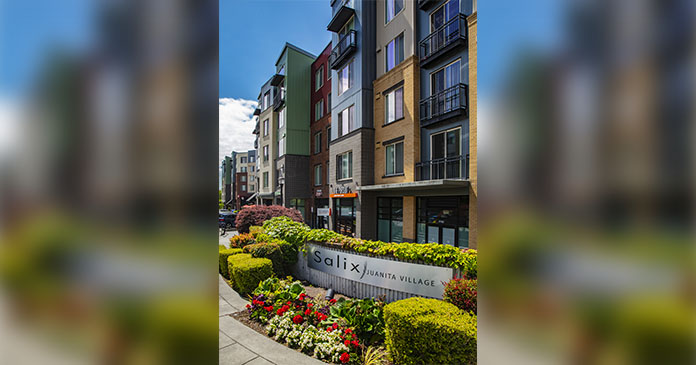 RISE Properties Trust ("RISE") a Canadian real estate trust, with operations based in Seattle, today announced their purchase of Salix Juanita Village in Kirkland, Washington for $101,500,000. The transaction was brokered by HFF.
Jason Murray, Investment Manager at RISE, noted, "Salix represents the first close-in Eastside asset that RISE will acquire this year. Built in 2005, Salix is relatively dated compared to new-product finish levels, and is ripe for renovation of its unit interiors, common areas, and a marketing refresh. Leveraging its 9-foot ceilings, large windows, unique urban townhomes, and 'micro-urban' location, Salix will be re-positioned as premier product, nearly indistinguishable from new construction, in an excellent Kirkland area."
The property is part of the Juanita Village master planned community, with its with dozens of shops and restaurants, and quick access to the beach and parks. The property has quick access to downtown Kirkland and is within the preferred Lake Washington School District with highly rated elementary, middle and high schools.
Including Salix at Juanita Village, Including Salix, RISE has acquired nine properties, with a total capitalization of approximately $588,000,000, in 2019. RISE owns approximately 4,150 units across 23 multifamily properties in the Pacific Northwest.
The property will be managed by Thrive Communities, a Seattle-based property management firm with approximately 13,000 apartments under management.