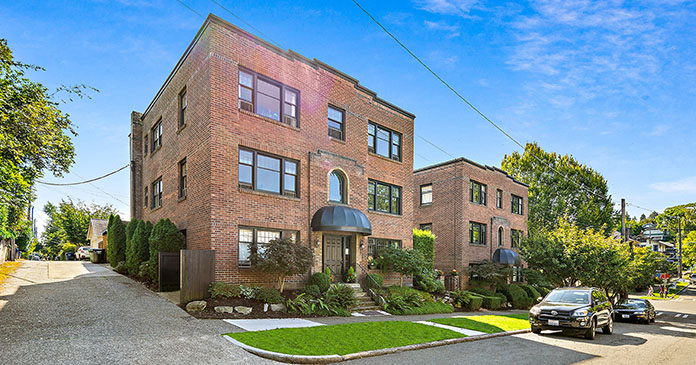 Seattle multifamily investment team, led by Dylan Simon and Jerrid Anderson of Kidder Mathews, closed the sale of the East Highland Apartments on Friday, December 20, 2019. The property, located in the vibrant north end of Capitol Hill in Seattle, sold for $5,600,000, or $467,000 per unit, and $617 per net rentable square foot.
East Highland Apartments (1903-1907 E Highland Drive, Seattle, WA 98112) comprises 12 units across two buildings. The property, constructed in 1928, has been meticulously maintained, exuding the classic character of the neighborhood's brick buildings, with discerning updates such as modernized kitchens.
Spacious units, tranquil outdoor amenity spaces, and an unbeatable location among residential blocks just minutes from charming retail corridors along 15th Avenue East and 19th Avenue East make the East Highland Apartments a rare find for discerning Seattle renters.
Dylan Simon, executive vice president; Jerrid Anderson, executive vice president; and Matt Laird, senior associate, at Kidder Mathews' Seattle office represented the seller, East Highland Apartments LLC.