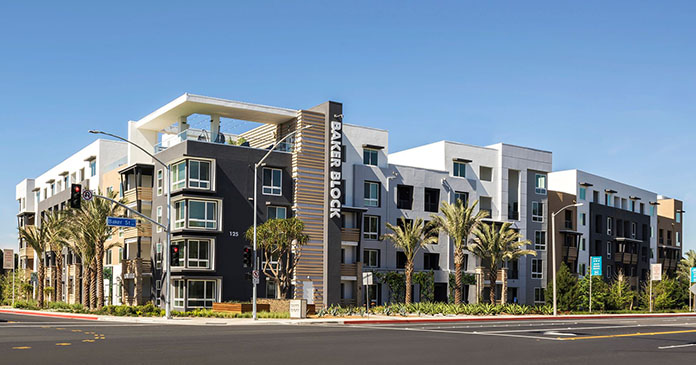 Cityview, a premier investment management and development firm dedicated to redefining urban living, today announced the sale of Baker Block, a 240-unit multifamily property in Costa Mesa. The apartment community, which completed ground-up construction in 2018, was sold to Baker Block Associates, LP for $113.5 million. At $473,000 per door, Baker Block is one of the highest price-per-unit sales ever recorded for a mid-rise multifamily rental product in Orange County.
"Cityview took great strides to position Baker Block as an alternative to comparable product in the area, creating a unique living environment, connectivity to the local community and an elevated resident experience," said Sean Burton, CEO of Cityview. "Baker Block exceeded our lease-up expectations and achieved one of the highest per-unit sale prices in the area. After leasing the project we saw significant investor interest in the market, which helped inform our decision to sell."
Baker Block Associates, LP plans to hold the asset long-term and continue Baker Block's current operations as a Class A multifamily apartment community. Located at 125 Baker Street East, the apartment complex features studio, one-, two- and three-bedroom units, and a variety of amenities including a resort-style poolside retreat, indoor/outdoor clubroom with full kitchen and wet bar, a two-story IMPACT fitness center with yoga and spin studios, rooftop sky lounge and gaming space, dog park with agility equipment, grab-and-go coffee bar, pet wash and multi-purpose spaces for relaxing, entertaining, events and co-working.
The community has become a local landmark, featuring Orange County's largest mural created by world-renowned street artist Shepard Fairey, who also designed President Barack Obama's iconic "Hope" poster during the 2008 election.
"We are very excited about our recent acquisition of Baker Block," said a representative from Baker Block Associates LP. "We have long been looking to enter the Orange County multifamily submarket and believe our acquisition speaks to how highly we view Costa Mesa and all it has to offer. With a high barrier to entry and burgeoning social scene, Costa Mesa is absolutely somewhere that we wanted to be for the long-term."
Cityview partnered with Red Oak Investments, Johnstone Moyer, Inc., AO and Inovus Design on the original construction of Baker Block. The 181,155-square-foot community opened to tenants in December 2017.
"We very much enjoyed working with Red Oak and each of our other partners on this development," said Tony Cardoza, senior vice president and managing director at Cityview.
Baker Block has received several notable industry awards, including PCBC's Gold Nugget Merit Award for Best Multifamily Community and MultiHousing News' Excellence Award for Best Mid-Rise New Development and Design. The community was also awarded the 2019 Kingsley Excellence Award for Resident Satisfaction for going above and beyond to ensure residents are satisfied with their living experience.
"It was a pleasure working with Baker Block Associates, LP on the transaction, and we are confident that they will continue Baker Block's best-in-class service as one of the top multifamily communities in Orange County," said Burton.
Tom Moran Jr. from Moran & Company represented Cityview in the transaction.