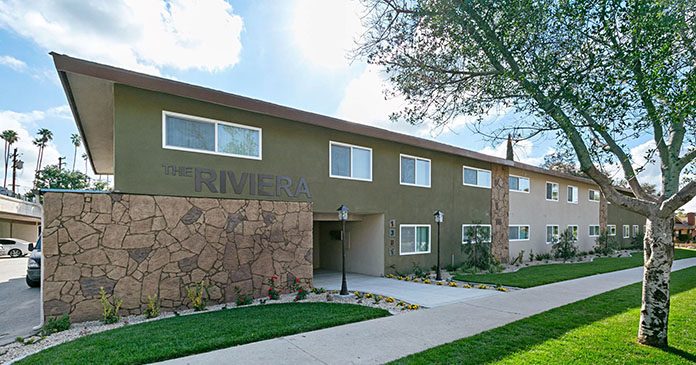 Avison Young, the world's fastest-growing commercial real estate services firm, announced today it has completed the $16.76-million portfolio sale of The Riviera and Rainbow Gardens, two nearby apartment properties totaling 72 units in Azusa, CA (Los Angeles County). The two-story properties each include 36 units and were built in the early 1960s.
Avison Young's Peter Hauser, Matt Hauser and Masa Ito in the company's Irvine, CA, office, represented the seller, Cameron Properties, a privately held company based in San Gabriel Valley, and the buying entities formed by Los Angeles-based Barker Pacific.
The Riviera is situated on 1.275 acres at 1381 N. San Gabriel Canyon Road. It features a large swimming pool and an on-site laundry facility. An extensive exterior renovation was recently completed by the seller.
Rainbow Gardens is situated on a one-acre parcel at 1311 Azusa Avenue. It includes a pool and on-site laundry room.
"These properties provide the buyer an excellent opportunity to upgrade and update unit interiors and exteriors as needed, to garner stronger rents in compliance with the current rent control guidelines," said Peter Hauser. "Once completed, the properties will be poised to create favorable cash flow."
He added that the new ownership plans extensive exterior renovations and rebranding for Rainbow Gardens that will include new landscaping, wood replacements and paint. Both assets are planned for full unit renovations as well.
The Riviera and Rainbow Gardens are well-located in north Azusa near the new Rosedale residential section of town with a number of retail, dining, recreation and healthcare amenities, including Azusa Greens Country Club, Northside Park, Costco, Starbucks, Ross, Chick-fil-A and CVS, among others. The properties are also proximate to downtown and the new Metro Gold train stations.
Over the past five years, Azusa has been the fastest-growing city in the San Gabriel Valley with 6.6 percent population growth during that period. The area has also seen a significant amount of capital infusion with new planned developments in various stages of construction in all property sectors.