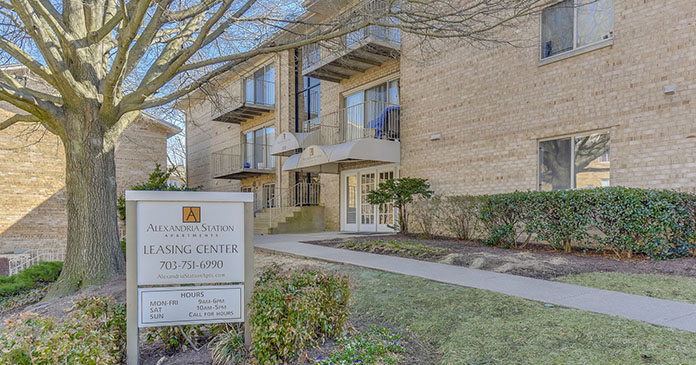 Avanath Capital Management, LLC, a private real estate investment manager and Registered Investment Adviser, has purchased two affordable apartment communities with a combined total of 578 units in Alexandria, Virginia—a city in the Washington D.C. Metro area—and Orlando, Florida. The assets were acquired for a combined total of $99.175 million, according to John Williams, President and CIO of Avanath Capital Management.
"Both the Washington D.C. Metro and Orlando markets align well with Avanath's investment strategy of targeting markets with strong economic, job, and population growth where home affordability is becoming increasing more difficult and market-rate rents continue to rise," says Williams. "These are some of the nation's most cost-burdened markets with a demonstrated demand for affordable housing properties. They present opportunities for our firm to invest in properties where we can preserve affordability for residents and produce steady returns for our investors."
Avanath has purchased the following properties:
Alexandria Station Apartments in Alexandria, Virginia
Avanath Capital Management has acquired Alexandria Station, a 290-unit affordable apartment community in Alexandria, Virginia, for $52.675 million.
Built in 1965 and renovated in 1998 and 2010, Alexandria Station is a 97% occupied affordable family community comprising 25 three-story structures.
The property marks Avanath's eighth investment in the D.C. Metro area, including Virginia and Maryland. Alexandria and its surrounding submarkets are undergoing significant growth, which Williams says is in part due to Amazon's planned second headquarters in Crystal City, Virginia, less than 7 miles from Alexandria Station.
"It is estimated that the new headquarters will create 59,308 new jobs and generate $1.83 billion in cumulative tax revenue by 2030," Williams says. "The increase in local employment will further generate demand for affordable units in the market."
Williams points out that Alexandria was ranked 9th in "Best Cities for Millennials in America" by the 2018 U.S. Census Report. The area benefits from strong economic metrics that support affordable housing investment and development, including an unemployment rate of 2.4 percent (below the national average of 4.2 percent) and a median household income that far exceeds the national average.
Alexandria Station is a 251,579 square-foot property consisting of studios, one, two- and three-bedroom units. In-unit amenities at the property include dishwashers, garbage disposals, air conditioning, and balconies or patios. Common amenities include a swimming pool, BBQ and picnic areas, a playground, on-site-laundry facilities, and a clubhouse.
"The combination of Alexandria Station's competitive unit mix and the fact that it will be managed internally by Avanath's property management group, Avanath Realty Inc., makes this acquisition a winning addition to our portfolio," says Williams who also notes that Alexandria Station is located near Avanath's new regional office in Alexandria.
Avanath will implement a series of upgrades to the interior and exterior of the property, including the redevelopment of its community spaces, Williams notes.
The community is situated approximately 11 miles south of Washington D.C., and less than 7 miles from the Ronald Reagan Airport, and sits within a mile of train and bus lines and major roadways including State Highway 236 and I-395. Major employers in the area include Inova Health, George Mason University, and Verizon.
Avanath owns a total of 1,169 units across the D.C. Metro area, including two other properties in Virginia, Acclaim at Ashburn, which is 34 miles northwest of Alexandria Station and 98 percent occupied, and Acclaim at Sterling, which is 27 miles northwest and 94% occupied.
Alexandria Station is located at 318 Whiting Street in Alexandria, VA.
Brooke Commons in Orlando, Florida
Avanath Capital Management also purchased Brooke Commons, a 288-unit mixed income community in Orlando, Florida for $46.5 million.
Built in 2000, Brooke Commons is a 99% occupied family community comprising 36 two-story buildings. 5 percent of the units at the property serve residents that make 55 percent of AMI, 50 percent of the units serve residents who make 60 percent of AMI, and 45 percent of the units serve residents who make 60-80 percent of AMI.
The asset is located three miles from the University of Central Florida, one of the largest universities in the U.S., according to Williams.
"The university is a major economic driver for the region, employing more than 13,000 faculty and serving more than 68,000 students," explains Williams. "This will drive long-term demand for the property over time. As a mixed-income property, the asset serves lower income residents who need it most, as well as provides housing for everyday individuals and families including students, professors, teachers, etc. This often results in creating a diverse community that is filled with people from all different backgrounds and walks of life, which is extremely important."
In Orlando, home of Walt Disney World, Universal Orlando and SeaWorld, the leisure and entertainment industry also contributes to its thriving economy, bringing in 50 million tourists each year. The metro as a whole was the fourth fastest growing U.S. metro in 2018. In addition, the Orlando MSA had the largest employment growth and second-lowest unemployment rate in 2019 among all US metro areas with a population of 1 million or more. Innovative technology, defense, and hospitality companies including Lockheed Martin, Amazon, and Wyndham Destinations have also been drawn to the region, creating 2,200 new jobs, attracting new investors, and underscoring the need for more affordable housing in the area, according to Williams.
Amenities at Brooke Commons include a business center, clubhouse, fitness center, swimming pool, BBQ and picnic areas, playground, volleyball court, and a car wash.
Avanath plans to implement an afterschool program called "Monster Club," which will include homework assistance, arts and crafts, summer camp, and other offerings at no cost to residents. Property management will also be implementing a tenant program for healthcare, which will include services such as health screenings, flu shots, vision and hearing tests, among others.
"Social and health services programs like these add value to affordable and workforce housing communities while providing tremendous benefits to residents," says Williams. "Avanath takes a holistic approach to all of its investments. Partnerships with local community organizations and social programs to help improve the quality of life for residents of our communities is one way that we do that."
Situated 12 miles northeast of downtown Orlando, 3 miles west of the University of Central Florida, and less than 20 miles from two airports, Brooke Commons is located at 10237 Eastern Lake Avenue in Orlando, Florida.
Avanath now owns a total of five properties in the Orlando metro market totaling 1,352 units, including Academy at Waterford Lakes, which is approximately four miles from the property. Avanath owns a total of 10 properties totaling 1,605 units across Florida.