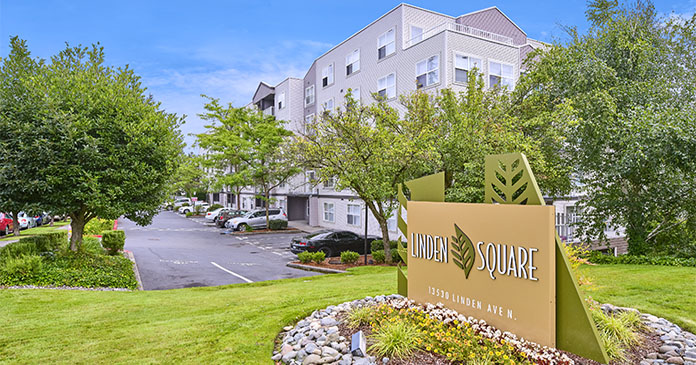 RISE Properties Trust ("RISE") a Canadian real estate trust based in Seattle, and Aegon Real Assets US ("Aegon RA"), an indirect wholly owned subsidiary of Aegon N.V., a multinational life insurance, pensions and asset management company headquartered in the Netherlands, today announced their purchase of Linden Square Apartments in North Seattle for $52,750,000. The transaction, brokered by CBRE, represents the third joint venture between the companies this year.
Located a couple miles northwest of Northgate Mall, the multifamily community was built in 1993 and features a mix of one, two- and three-bedroom units, a fitness center and pool, as well as ample garage parking, storage, and amenity space.
The property is a short walk to Bitter Lake and its adjoining playfield amenities, as well as a rapid ride transit stop, which features service every four minutes during peak hours. In addition, the location has strong accessibility to major Seattle employment nodes by way of short drives to both Highway-99 and Interstate-5.
Beau Madsen, Investment Manager at RISE, noted that "Linden Square is a rare, transit-oriented asset that will benefit from our expertise in acquiring, renovating and operating multifamily properties. Having recently completed a number of successful renovation projects in the area, we are excited for the opportunity to unlock the potential at Linden Square by reimagining the asset's branding and leasing experience, as well as it's amenity and apartment offerings."
Cameron Jones, Head of Real Estate Equity Acquisitions for Aegon RA, stated, "The acquisition of Linden Square Apartments is another illustration of Aegon RA's investment strategy which focuses on acquiring, improving and preserving workforce housing in select metros across the U.S.  The venture with RISE showcases alignment with regional experts and leverages our experience and depth of relationships in the multi-family sector."
Including Linden Square Apartments, RISE owns approximately 3,200 units across 20 multifamily properties in the Pacific Northwest.
The property will be managed by Thrive Communities, a Seattle-based property management firm with approximately 12,000 apartments under management.