Each month we examine our job market data to discover trends worth sharing. Here are some recent highlights you might find interesting:

From U.S. Federal Reserve Chair Powell's September 21, 2022 press conference:
RACHEL SIEGEL (Washington Post): Are [job] vacancies still at the top of your list in terms of understanding the labor market?

CHAIR POWELL: Yes
So job vacancies are all that matter – they are the single most potent metric that captures the balance between supply and demand in the labor market. Our job listings provide a real-time view of the labor market, pre-dating BLS employment data by more than a month. Job listings continued to recede in September with active job listings down 3.2% month-over-month in the U.S. and across a majority of industries, locations, and occupations. As we've been saying, the labor market, while still very strong, continues cooling off.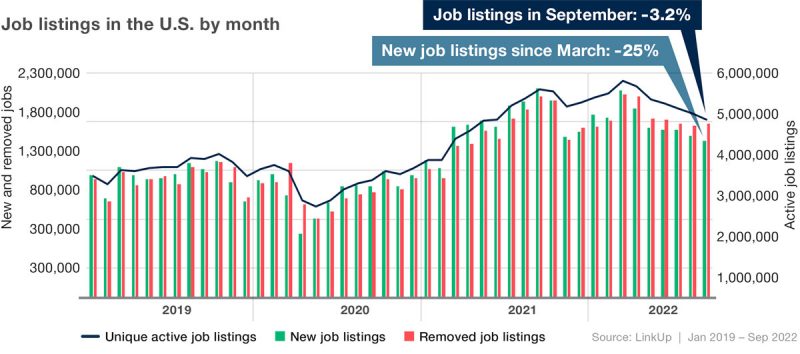 Since the peak in March, U.S. total job openings indexed directly from company websites by LinkUp have dropped 16.5%. New job openings have dropped even more dramatically, falling almost 25% in the past 6 months.
As the country and the economy move further into a post-covid environment, supply chain issues are fading, the world is beginning to adapt to the war in Europe, and the economy is down-shifting to a less torrid pace.
As things start to normalize, and temporary contributors to inflation subside, the labor market remains strong, and wages continue to rise. Until the BLS released its August JOLTS data this week, there had been a growing fear that the Fed was going to have to keep hiking rates until unemployment rose considerably.
Luckily, August's JOLTS data has, just as we predicted, calmed things down and the narrative has abruptly shifted to the possibility of a less aggressive Fed and the growing possibility of a soft landing—a decline in job listings rather than an increase in unemployment.
---
Change by state
Job listings dropped throughout the country in September, with only 4 states avoiding a decline.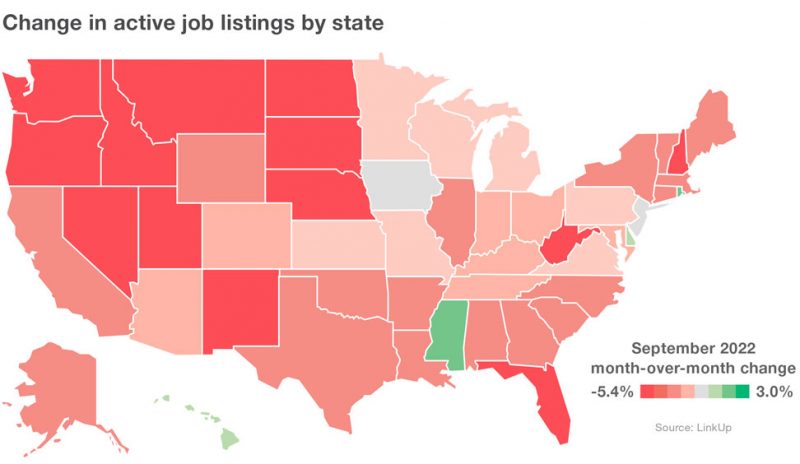 Hiring velocity slow down
As the time it takes to fill job openings keeps climbing, hiring velocity continues to slow down. The average closed duration for jobs in the U.S. rose to 48 days, and the rolling 90-day average rose to 47 days.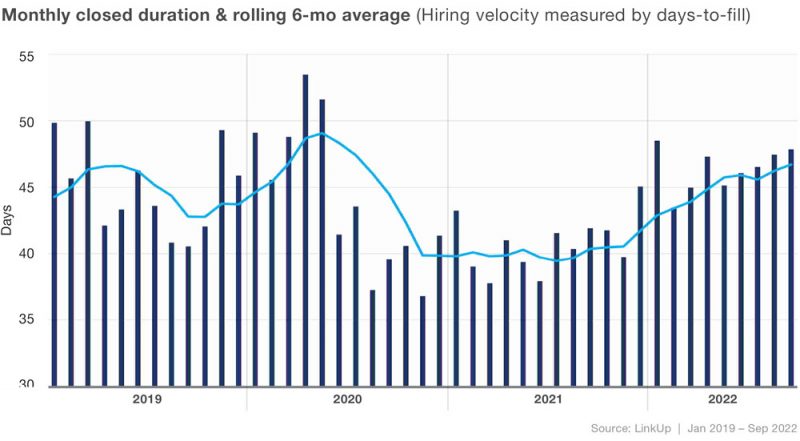 Job data by industry
Our September data shows 95% of industries decreased their job listings since August. Only the Utilities Industry showed subtle growth at 0.4%. Labor demand fell slightly in both goods-producing industries as well as service-based industries.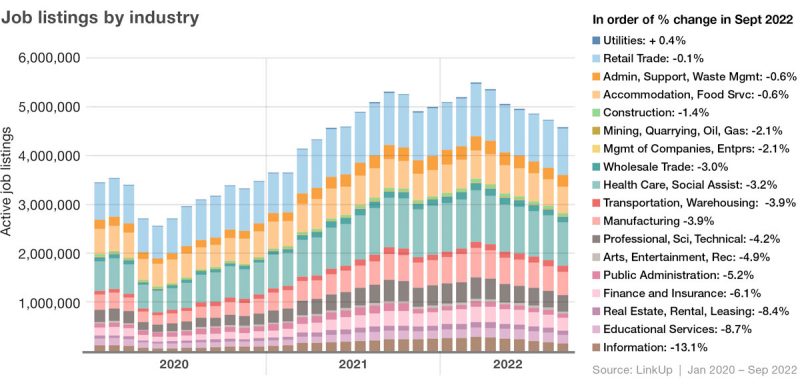 As reported last month, the Information Industry continues to tighten hiring, and is again the industry taking the largest cuts to their listings, down 13% for the second month in a row. This tech trend isn't driven by just one company (although jobs at Dish were down big), or a single location. Standing out as one of the few big names actually adding jobs: Salesforce.
New: Get weekly macro job reports
The buzz and intense interest around job opening data is growing—from renewed interest in the Beveridge curve, and monitoring public and private sector jobs, to exploring the tie between remote work and the house-price surge. Instead of waiting for this monthly email, or data from other sources that is even more delayed, we are pleased to offer a new data package available for purchase via subscription.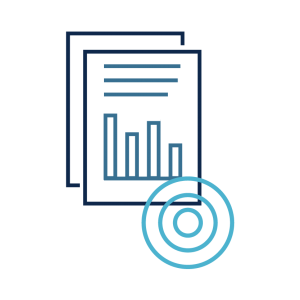 The LinkUp U.S. Macro Data Package is a collection of weekly and monthly curated job reports containing timely, accurate, and predictive data. The reports provide deeper insights into the job market—from a high-level all the way down to individual occupations, industries, and MSAs. Learn more »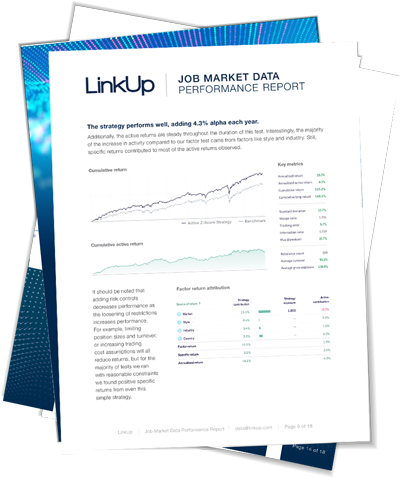 Report: Signals from job listing data generate alpha
>Download the new LinkUp Job Market Data Performance Report. Leveraging our LinkUp Insights Platform powered by Exabel, allowed for rapid testing of our investment strategy hypotheses. Download the PDF to see more details, graphs, and results for our tested strategies for yourself.
AI driven insights + LinkUp job data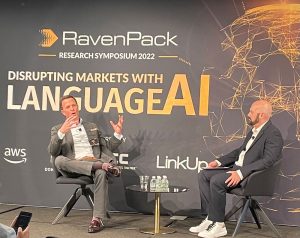 We have joined forces with RavenPack, the leading provider of Natural Language Processing (NLP) technology, and just last week we announced the release of RavenPack Job Analytics powered by LinkUp.
The new offering leverages NLP technology over our entire job listing database of 200 million job listings to provide actionable insights from macro to company trends, with knowledge graph of 5,000 roles and more than 3,000 skills, qualifications and benefits.
We'll be showing this off more next week at the London RavenPack Research Symposium on October 11th. There's still a chance to register if you haven't done so already.