---
Author: Bob Pinnegar, President & CEO/NATIONAL APARTMENT ASSOCIATION
---
In this edition of NAAEI's Apartment Jobs Snapshot, job openings in the apartment industry comprised nearly 44.0 percent of positions available in the real estate sector, well above the 5-year average of 31.5 percent. Property manager positions were the most sought after, as they play a critical role in ensuring that all COVID-19 safety precautions are in effect. Dallas, Los Angeles, Atlanta, Washington, DC, and Seattle ranked highest for apartment job demand. Leasing momentum for student housing is increasing as most universities will open to on-campus classes, resulting in high demand for leasing consultants.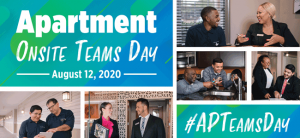 To thank our onsite teams, we are designating Wednesday, August 12 as Apartment Onsite Teams Day. This idea is spearheaded by Marcia Bollinger, Senior Vice President, CoStar; Kirk Downey, Chairman, National Suppliers Council; and Mike Mini, President, Affiliate Executives Council. In this vein, we need your help in recognizing your local onsite teams to give them the attention they deserve. Please contact your local affiliate and/or local product/service council to see how you can help. They have been equipped with ideas and suggestions to not only celebrate the staff onsite but spread the word on social media using the hashtag #APTeamsDay and within their cities and towns.
We hope you will join us in promoting all the amazing work of our industry's onsite teams. Their dedication and commitment have been amazing and they deserve a thanks from all of us.